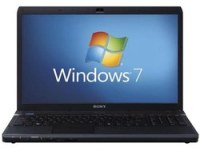 Sony is standing in Recall Corner, reports PC Pro. Sony has warned that certain VAIO laptops could overheat after the discovery of a temperature gauge error.
The VAIO VPCF11 and VPCCW2 series models are involved, and 535,000 units are believed to be affected.
In rare cases, says Sony, "these notebook computers may overheat due to a potential malfunction of the internal temperature management system, resulting in deformation of the product's keyboard or external casing, and a potential burn hazard to consumers."
A firmware update is available to correct the error.
You can read the Sony safety notification for full details of affected model numbers.
Previous Recall Corners:
* Recall Corner: Shock hazard WindTunnel Hoover
* Recall Corner: HP notebook Lithium-Ion batteries
* Recall Corner: Targus Universal Wall Power Adapter for laptops
* Recall Corner: Mares Nemo scuba dive computers
* Recall Corner: Lithium-ion Mobile Power Pack
* Recall corner: Remote control kits for electric fireplaces