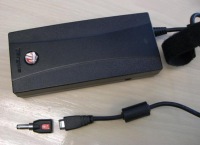 The manufacturer of the Targus Universal Wall Power Adapter for laptops – Comarco – is the latest entrant to our Recall Corner, and the power theme continues.
The adapter is being recalled after a number of reports of over-heating connector tips. Approximately 500,000 units, which were manufactured in China, are involved.
Slashgear reports:
Targus Universal Wall Power Adapters have been out for awhile, after being sold across the country from several different retail locations, and since then the company has received over 500 complaints that the connector tips overheat. This eventually lead to 8 reports that customers had been burned by the tips, which has lead to a recall of massive proportions.
See also: Targus Notebook Chill Pad Short Circuits
More details of the recall programme can be found online, from Comarco, where the hazard is described as "Faulty wiring can cause the connector tips to heat and melt the plastic encasing the connector tips, posing a burn hazard to consumers."
Only models with the following SKU numbers are affected by this recall: APA23US-02, APA23US-03, APA23US-04, APA63US-03, APA63US-04, APM62US-03 and APM62US-04. The SKU number can be found on the underside of the adapter unit.
Previous Recall Corners:
* Recall Corner: Mares Nemo scuba dive computers
* Recall Corner: Lithium-ion Mobile Power Pack
* Recall corner: Remote control kits for electric fireplaces