<<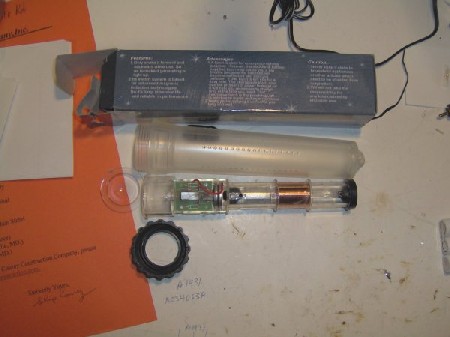 Are there any real magnetic induction shake-to-charge flashlights out there? Phil Karras relates his run-in with some more flagrant fakes on his website:
"I'm not saying that the flashlights were not worth the $2.50 I paid, but they were not as advertised. The flashlight box clearly stated in poor, but understandable English, that the flashlight did NOT use batteries, all you had to do to make it light was to shake it back and forth. On my way out I heard someone say that there was no magnet inside the flashlight. Instead of going right back to the vendor, though, I went home and ran an experiment. I left one of the flashlights on while I went out for a couple hours. When I returned, the flashlight was dark. I picked it up and shook it, but no amount of shaking would make it shine again."
"A closer look inside showed what looked like two button-cell batteries. I took the unit apart and inside there were two 2032 button cells, an on-off switch that was attached to the batteries, and two wires from the coil going to a circuit board with nothing on it–no diodes, no chips, nothing but unused solder pads. I then took the "magnet" out and found that it was not a magnet–just a lump of non-magnetic metal. A closer look at the coil showed that it was one layer of wire only, hardly enough to generate any useful electron flow even if the metal slug was magnetic. "
See more examples of Phil's fakes here.