Reader submissions to Made By Monkeys are always welcome, so many thanks to "Mr. C" for sending us this one concerning a suspect LED torch, which wasn't smokin', it was actually smoking. He highlights the apparently false safety certification on the torch, CE marking, etc…
He writes:
"This torch was on charge in my car and suddenly started to smell of burning and smoking. It is a dangerous product, nowhere on the torch is a manufacturers name yet it is 'RoHS' approved. I was lucky my vehicle did not catch fire."
Of course, there are lots of dodgy products around but it is a cautionary note not to be fooled by CE and other markings, which can be easily faked by unscrupulous counterfeiters.
This latter point is echoed by an interesting post on the Raspberry Pi website, in an "Easter picture post".
"Liz" writes:
In the last week or so, we've all been hyperaware of any CE marks in our immediate environment because of all the work we've been doing to make sure we are allowed to use one. CE stands for Conformité Européenne, meaning "European Conformity"; it's a mark which shows that the product it's on conforms to whatever European directives govern the product type.

We've been particularly interested to observe all kinds of things, electronic and otherwise, which carry a mark which looks a lot like the CE mark, but which doesn't mean Conformité Européenne. The other mark means China Export – you can see the difference between the two marks in this picture. It's a sneaky-clever way some people try to get around the regulations.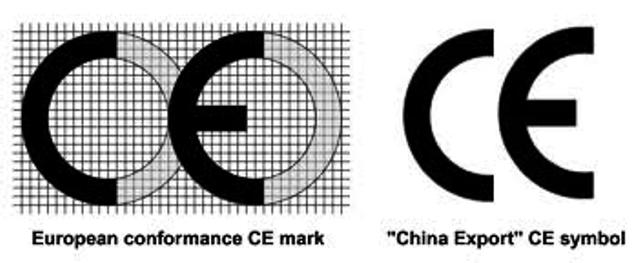 The image above is from Wikimedia Commons.
As you can see, from the detail below, the torch was a genuine fake, rather than a "China Export"…