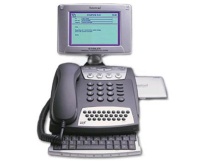 There's alot to be learnt from failure, and the T3 website is doing its bit by rounding up what it considers to be 10 modern gadget flops.
"They promised so much yet delivered so little," is the tagline, but some of the set surprised me. (The O2 Wallet payphone system? Really?)
Without giving the full list away, room was found for the Sega Dreamcast, the Segway, robot vacuum cleaners, and "Honda's creepy metal child", Asimo…
And here's how they describe the Amstrad E-m@iler (pictured):
Having the misfortune to look like an early 90s IBM trying to dry-hump a telephone, the E-M@iler charged lucky users to check their email, once they'd wrestled their way past a calamitous keyboard and OS. Its USP – that it allowed anyone to email – looked out of date from the moment it hit the shelves in 2000.
Just to remind you, here is a video outlining the proposed payphone system.