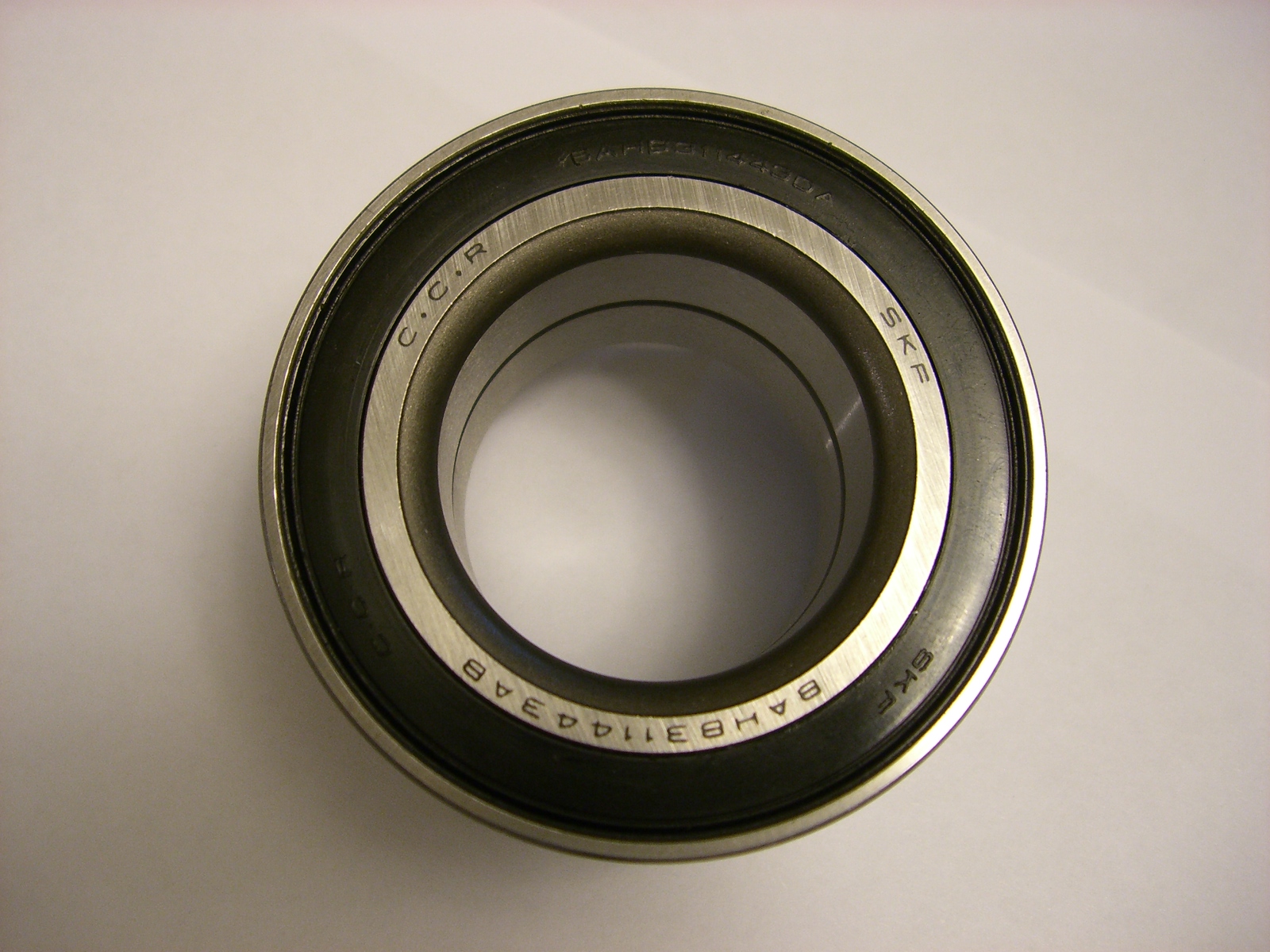 A recent onslaught of bogus after-market bearings in China has created a major headache for legitimate bearing makers like SKF and Timken, who say that it's often very difficult to distinguish the fakes from the non-fakes.
Counterfeiters are getting very good at reproducing the original markings and the packaging–in some instances they're getting almost too good. As a case in point, compare the real and counterfeit versions of the SKF BAHB 311443 AB HBU1 bearing above.
Note that the marking on the counterfeit (right) looks more "genuine" than the marking on the actual SKF bearing.
"The fact that they may look more real only underscores the need for people to look beyond physical appearances and make sure they only buy from authorized dealers and distributors," says SKF's Colin Roberts.
To help people avoid getting duped, SKF offers a tip sheet on how to detect fake bearings.
Shanghai, China–Just around the corner from the Shanghai offices of the Swedish bearing giant SKF lies a jumble of shops specializing in after-market mechanical parts. You can find almost any type and brand of bearing here, including some counterfeit versions so real looking that only a technical lab could confirm their lack of authenticity. Bearings are big business in China. These friction fighters are an essential component of virtually any machine with moving parts.
As more and more of this equipment, ranging from washing machines to cooling fans, is being manufactured here, the demand for bearings produced by local suppliers has skyrocketed – to the tune of an estimated 33B Chinese Yuan per year (approximately $4.3B). Another factor driving the demand is the explosive rise in sales of low-cost cars in China, creating a huge business in bearings for both the OEM and the automotive after-market. SKF was one of the first foreign bearing companies to establish manufacturing capabilities in China back in 1995. Its market presence has increased steadily ever since.
In its most recent move, the company entered in 2002 into a joint venture with a Chinese bearing maker and built a modern facility outside of Shanghai to produce deep groove ball bearings used in electric motors and two wheelers. In a market historically dominated by low-end products and low prices, SKF says that it set out to establish itself as a supplier of high quality products and a provider of superior technical support.
"The one thing we did differently is that we didn't chase price," says Derwyn Roberts, General Manager of SKF's Automotive Division in China.
Roberts says the company didn't exactly waltz in and instantly demand a higher price -it took years of relationship building and convincing the market that high-quality, high-performance bearings could improve equipment performance, reduce maintenance requirements, and extend operating life. But that higher price tag may be one of the big reasons that companies like SKF and the American bearing maker Timken say that counterfeit bearings are a growing problem for them here in China.
"Just by putting an SKF marking on a bearing, counterfeiters can sell it for 3-4 times more money than some other, lower-quality brands," observes Roberts. Although there is no specific type of bearing that is targeted by counterfeiters, Roberts says the automotive after-market is one area of growing concern: The bearings typically used in many automotive applications tend to be small, so they require less technical capability to produce and therefore are among the easiest to copy.
And while problems with counterfeits are not unheard of in the OEM market, the big rise in recent years of so-called, "backstreet" after-market sales operations have helped the fakes to flourish. To wit, a recent (April 17) article on the China Bearing Commercial Community Website Yesterday (Apr. 17), described the seizure in Nanning of more than 1,300 fake "ZXY" brand auto bearings, worth over 40,000 Yuan. Often, and to avoid easy detection, the frauds are mixed in among the originals. To a guy like Roberts' trained eye, the amateurish efforts of some counterfeiters make it easy to spot the fakes.
"There are many telltale signs of poor counterfeits — from the surface finish to the size of the chamfer and radius, and roundness of the bearing. And sometimes the bearing has the wrong markings," he says. Roberts tells the story of a wheel bearing that a dealer thought didn't look right. He sent it back to SKF for further inspection.
"This fake had a laser marking indicating the bearing type – that was a dead giveaway that it wasn't one of ours, since we don't use that kind of a mark."
Unfortunately, the less sophisticated consumer is more apt to be taken in, and the counterfeiters work hard to fool them – something Roberts admits they're getting better at all the time.
"They often exploit real or realistic-looking packaging to pass a fake off as real," says Roberts. One clever trick is to take the original bearings out of their boxes and replace them with counterfeits. The original bearings are then placed in plastic bags and sold as is. The end result is that the fake is perceived as the real thing and the real thing is perceived as the fake. To wit, while researching this article, I purchased a bearing in a crummy-looking plastic bag from one of the backstreet distributors. Under my novice scrutiny, the bearing looked like it was in poor condition.
Coupled with the packaged, it clearly looked like a con job – an obvious fake, I told myself. But upon closer inspection, SKF engineers determined that the bearing was indeed a genuine SKF product manufactured in France. Despite its somewhat grimy appearance, they told me that the bearing actually was in good condition, albeit six years old.
For companies like SKF and Timken, bogus bearings do more than tarnish their reputation or represent an economic loss to customers. There's a genuine safety issue at hand. "Many of our bearings in automotive applications are safety-critical and any premature failure could therefore have serious implications," says Colin Roberts, Group Technical Press Officer for SKF. Though the companies do their best to research any reports of bogus bearings – in some cases they've even hired private investigators — they do say it's very difficult to trace counterfeit bearings back to the original source.
They say they are dealing with the issue by focusing on customer education (only buy from an authorized distributor) and establishing a dialogue with the Chinese government to build awareness of the problem and tap into the learnings of other anti-counterfeit programs.