Today is a happy day for engineers everywhere. Well at least for those of us of a certain vintage.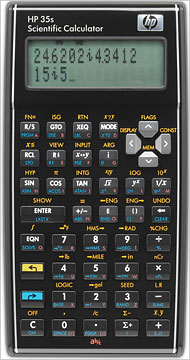 HP is introducing a retro model of its first hand-held scientific calculator, the HP-35, to mark the 35th anniversary of HP Labs and the calculator's introduction.
Least I date myself too terribly, let me point out that my first calculator was a later model (though admittedly not a whole lot later) — the Hewlett Packard 41C.
It served me well through engineering school.
And I kept on using it even after going to work at HP rival Texas Instruments—in spite of a persistent story (I was never sure whether the tale was apocryphal or not) about an engineering manager who so loathed HP products that when he caught a newly hired engineer using an HP, he would take it and smash it to smithereens.
The introduction of a new calculator is significant because a few years back speculation was rampant on the Internet that HP was about to exit the calculator business, causing many hard-core fans of Reverse Polish Notation (RPN) to fall into a deep depression. Yours truly included.
It's just so cool when someone from marketing asks to borrow your calculator at a meeting.
Of course, whether the handheld calculator will follow its predecessor, the slide rule, into engineering-tool extinction is debatable: Spreadsheet applications and PDAs offer most of the basic calculator functions. calculator emulators are pervasive, and math analysis software offers even more functionality, eliminating the need for a handheld calculator altogether in many situations.
Maybe that's why the response to an enthusiastic comment about HP calculators on an Internet discussion group was simply,"What are they?" Data can be entered into the new HP-35 using RPN or, for woosies, conventional algebraic methods. So better hurry and get one now — at 2 ENTER 15 X 2 X dollars, that's just 12 ENTER 3 X 10 X 20 – dollars less than the original version!