Boeing Dreamliner Li-ion batteries keep on smoking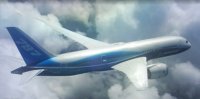 Things aren't getting any better for the Boeing Dreamliner and its Li-ion batteries. The BBC, for example, was among those who reported last week on the grounding of a Japan Airlines Boeing 787 Dreamliner. Routine maintenance, detected smoke or gases that may have come from faults with the main battery (the aircraft is the first Boeing to use high-capacity lithium-ion batteries), with warning lights also flashing to signal a battery fault. Note that no one was on board at the time, at Tokyo's Narita airport. According to the BBC, Boeing has said that early indications are that a single battery cell had released gases, and that the warning system had operated as planned. In a statement, according to the Daily Telegraph, Japan Airlines said:

"The safety pressure relief valve connecting to one battery cell out of eight was found to have opened, it was found that liquid had dispersed in the main battery enclosure."
Back in February last year, we reported on an in-depth look at the aircraft's battery trouble, and a bit earlier The Guardian has a useful info-graphic highlighting the full range of issues facing Boeing (not all batter-related). Boeing's response – Boeing considers Dreamliner Li-ion battery design changes – seemed to be to contain and minimise the inherent battery problems. We wrote:

The main issues appear to be improving the separation between cells within the Li-ion batteries, as a way of minimizing the threat of heat or fire spreading. Enhanced heat-sensors may be one approach, and keeping the "cells more rigid" another, to help prevent any electronics interference…
This is confirmed by the BBC's transport correspondent, Richard Westcott.

"Boeing never did solve the battery problem that grounded the entire Dreamliner fleet last year. Instead, Boeing put in a raft of safety measures to contain any future issues."
And tt seems this is what has happened on this latest occasion…

Related Tech News
2 Comments
Share your knowledge - Leave a comment