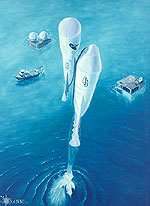 This is rocket science.
A former NASA engineer who hopes to develop a low-cost technology for space travel suffered a setback this weekend in his design efforts. Reports the Associated Press:
"Jim Akkerman was working on a spacecraft his firm is developing when his rocket fuel exploded. No one was injured and no property was damaged at the accident in Hitchcock, located about 40 miles southeast of Houston.
"It's just an experiment that went bad," police Chief Glenn Manis told the Galveston County Daily News.
Too much methane-oxygen fuel mixture accumulated in the rocket engine when the engine wouldn't fire, causing the explosion, Manis said."
As shown in the drawing above, Akkerman's concept is for a rocket that launches vertically from water. Clearly a bit more work is needed!