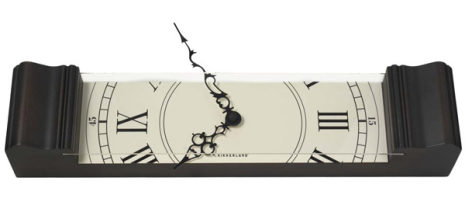 You've got to smile at this one – a "sliced" grandfather clock. Maybe your modern flat is too miniscule for the full works. Maybe you like this "modern, minimalist take" on the classic standing clock…
The Kikkerland Sliced Grandfather Clock is yours for $29.26 (down from the List Price of $36). A bargain.
In the tradition of the ICBSM series, I bet it would be sold out by the time you ordered it ("Only 3 left in stock–order soon" says Amazon).
It is designed by one Rob Price, creative director of Thwart Design and an industrial designer, and is produced by Kikkerland. The wall-mounted clock measures just 3.5 inches x 17 inches.
On the company blog you can read an interview where Rob discusses his grandfather Clock design.
"The idea came to me one day several years ago when I was thinking about the idea of slicing away excess in design. Soon after, I made one Grandfather Clock for a New York design exhibit and at that show, people started asking me if they could buy the clock. The positive feedback encouraged me to make more clocks."
[Via technabob.com, holycool.net]