Nintendo design decisions for its 3D gaming console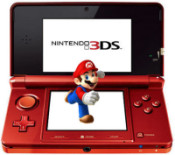 Here's an interesting one, about avoiding a pitfall in product design. Will we hear about hinge cracking problems with the upcoming 3DS? Hopefully not, because the company has been highlighting the physical design decisions made around the 3D gaming console, reports Slashgear, via Kotaku (it is all in Japanese).
Slashgear writes:
According to Yui Ehara, from Nintendo's research and engineering department, the ice-cream sandwich style three layer stack is purposefully tapered so as to give a gamer's fingers somewhere to grip, unlike the slickly-abutted edges of the DS Lite. Meanwhile, there's also been work on new materials and coatings to boost durability.
For instance, while the tapering aspect helps you open the 3DS, it also increases the likelihood that, if dropped, all the impact force will be on a single point. To counter that, Nintendo used a new glass-fiber resin for the chassis, and rearranged the internal layout of the electronics to minimize damage. The new hinge design apparently took six months of prototyping, but Nintendo is now confident it will not only open readily but avoid the stress-cracks many DS Lite owners have complained of.
Read the Slashgear post, and the Kotaku translation.
2 Comments