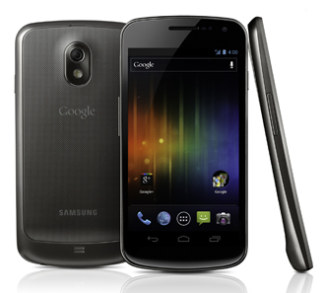 Here on MBM design problems are our bread and better, so this report is maybe worth highlighting.
A company called WDS, which describes itself as a "wireless user experience" specialist, has reported on handset costs faced my mobile telecom providers, with particular reference to the Google Andorid platform.
Over a 12 month period it has tracked how consumers interact with their phones, including analysis of 600,000 technical support calls, to identify the platform's 'cost-of-ownership' for operators.
This ZDNet blog post was among many covering the report – Android handsets top hardware failures list
Adrian Kingsley-Hughes writes:
 Android handsets are more likely to suffer from hardware faults than Windows Phone 7, iOS or BlackBerry handsets, according to research published by wireless experience management experts WDS.

 WDS [found] that Android handset hardware failures are twice as common as for iOS devices, with 14% of all Android support calls related to hardware failures. By comparison, only 11% of Windows Phone 7 calls were because of hardware failures. iOS did even better, with only 7% being down to problems with the hardware.
There are lots of other interesting figures. Here, for example, is a breakdown of hardware faults, by OS: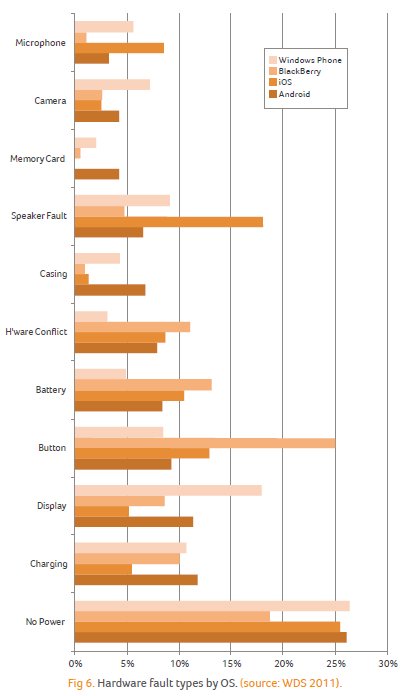 And here is a breakdown of best-in-class and worst-in-class, in terms of hardware faults across different mobile platforms: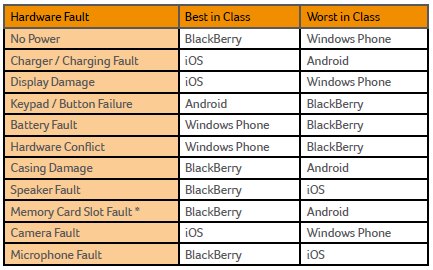 WDS also writes:
Of the smartphone technical support calls analyzed by WDS 14% of Android calls were assigned to hardware faults such as button or touchscreen failures, speaker and microphone faults and battery performance.
Moving away from Android, the company has this to say about the Apple iPhone 4 antenna problem, which was previoulsy featured in Made By Monkeys:
Following the release of the iPhone 4 reports began to emerge of an alleged hardware fault with the phone's antenna. Although only 0.55% of consumers calling in this issue [sic] to Apple Care, the story received an unprecedented amount of media attention provoking an urgent PR challenge. Despite a relatively insignificant proportion of devices affected, the barrage of negative press posed an irrefutable threat to the overall perception of the quality delivered by the Apple, brand forcing the then CEO, Steve Jobs to take the spotlight in defense of Apple and the iPhone 4.
You can read the full Guardian breakdown of the figures, or the Reuters analysis. Alternatively, you can read the full WDS whitepaper (PDF).