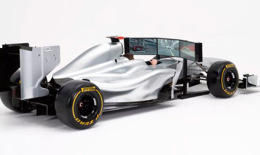 How cool is this? Or is it just massively OTT? It's an F1 racing simulator that is effectively an F1 car. And it costs a pretty penny.
Thanks to techeblog.com for highlighting this one. They write:
Made by FMCG International, this $145,000 racing simulator was designed to look exactly like a real F1 race car, right down to the steering wheel and pedals. It's powered by an Intel Core i7 processor and features three 23″ LCD displays. To further enhance the racing experience, this simulator is equipped with a 5.1 surround sound system, AP racing or Brembo brake calipers, Pirelli F1 tires, and a carbon fiber shell.
You can read more on the V-Racing website (the people who make the components) or on the FMCG International website (the people who hire out simulators for entertainment at events).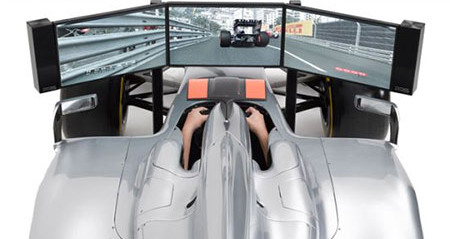 FMCG writes:
Experience Formula 1 from the safety of our full and half size simulators. We have adapted a real F1 car with realistic force feedback through the steering wheel, simulating the loading effect whilst cornering, braking and acceleration. Controlled by the participant using the onboard brake and accelerator pedals. The experience is enhanced as the participant sits in a genuine car with a full set of wheels and aerodynamics.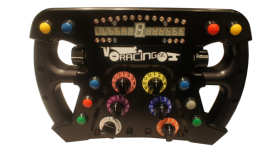 It's all a bit better than cursor left and cursor right for steering, old PC-style! The VR-F1 Wheel is pictured right, and its spec is:
SLI-Pro steering wheel display
(SLI-F1 will be an option when it becomes available)
12 high quality push buttons from Otto, 2 of which are on the back side of the wheel (index finger buttons)
2 additional Knitter push button switches on the back of the wheel for shifting.
2 rotary thumb dials
5 rotary switches
1 additional rotary encoder
4 LED's
Leather grips
Custom made Precision Shifters
Do you want one? Check out an example video.