I can't believe someone makes… Wi-Fi kettles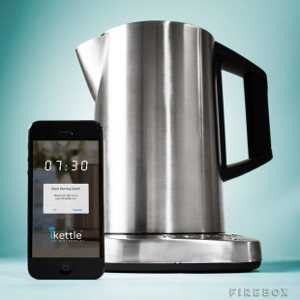 You know the Internet of Things. Internet connected fridges and toasters and garage doors… Well how about the Wi-Fi kettle? Steamy IP! The iKettle , complete with an LED backlit control panel and four tailored temperature settings, can be cunningly controlled by your iOS or Android smartphone, and features user-friendly Wake Up and Welcome Home modes. It's yours for £99.99, if you order it from Firebox. They warn you that it "May cause you to fire your butler/maid and throw away your alarm clock". The website writes:
Imagine how perfect and complete life would feel if there was no longer that tiresome wait for the kettle to boil. This blissful paradise we've just described is now all too real, thanks to the iKettle – The World's first WiFi Kettle. Stumbled in the front door from work exhausted? Nervy half-time ad break during the World Cup final? Slaving away on a late night project and can't waste a second? Whatever the urgent hot-drink scenario, a simple one-touch setup allows you to instantly control the iKettle from anywhere in the house with your smart-phone.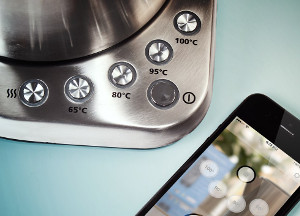 Product Features are listed as:
Control your iKettle via your mobile device
Easy one-touch set up
Wake up and Welcome home mode/Timer
Choose from four temperature settings
Keep warm feature keeps the iKettle at your desired temperature for up to 30 minutes
Super easy to clean – removable filter and no internal element
Auto shut off with boil-dry protection
Stainless steel design with soft-touch handle
LED backlit control panel
Connectivity:
Wireless 802.11b/gx
WPA/WPA2
Tablet/iPhone/Android
Power:
Has a standard 3-pin UK plug
Voltage 220-240V
Frequency 50/60Hz
Power input 1850-2200X
Box Contents:
But does it have a Fill-me-up-with-water mode, I wonder? I like my water freshly added… [Via Technabob]  


Related Tech News
Share your knowledge - Leave a comment