I can't believe someone makes… Interactive pizza ordering tables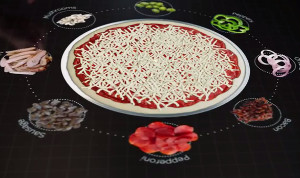 This is the shape of the future, and it's pizza shaped. With a bit of Minority Report thrown in… Pizza Hut, with some help from the design and development agency Chaotic Moon Studios, has come up with an "interactive concept table" to facilitate more efficient and customisable pizza ordering. It "could be the future of the Pizza Hut dine-in ordering experience," says the company. By the way, check out the Chaotic Moon Studios website. The "About Us" page reads:

We are smarter than you. We are more creative than you. We can make you more money. We are the most humble gods among men you'll ever find.
Like it! Not modest, but humble. [Via Atmel tweet] Previous I can't believe posts:

Related Tech News
Share your knowledge - Leave a comment