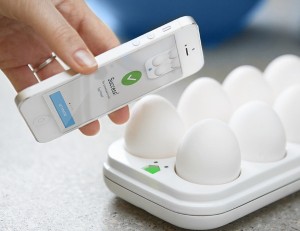 This product is unlikely to win his affections either – an interesting IoT device that counts the number of eggs in your fridge… Thanks to Quartz.com for highlighting the Egg Minder. It's a smart egg tray that keeps track of how many you have at any given moment.
But there's more – an adjacent LED indicator tells you which is the oldest egg to be used first… Christopher Mims writes:
On its own, the Egg Minder is a fairly simple device: It has a sensor in the bottom of each of its 14 egg cups that can tell whether there's an egg present, and this information is transmitted wirelessly to some nameless server in the cloud, which can then feed the data to an app on your smartphone. As a stealth ambassador for the internet of things, the Egg Minder has the potential to help normalize the notion that pretty soon just about everything we own will have some degree of self-awareness. The NSA may also want to know how many eggs are in your fridge, but that's another matter.
Features:
Stores 14 eggs
Each egg slot has an individual sensor and LED light
Light sensor (to sense when fridge is opened)
Fits in standard fridges
Works in cold temperatures
Powered by 2 AA batteries (included)
Materials:
LED lights
Plastic
Acrylic
Electric Imp Wifi chip
Dimensions:
370mm L x 112mm W x 81mm H
Tempted? It costs fifty online dollars via Quirky, the inventor-friendly crowdfunding site. It's had a lot of favourable reviews (averaging five stars). The inventor, Rafael Hwang of Arizona, is described thus on the site:
Like all Quirky products, Egg Minder was invented and influenced by real people like you. This idea was hatched by Rafael Hwang, a research associate and all-around good egg. Rafael enjoys proving naysayers plain wrong. He puts his fries in his burger to maximize efficiency and thinks it's never too late to start something as long as you surround yourself with ambitious people. A perfect motto for us, too, if we may say so ourselves.
Check out the video below httpv://youtu.be/_9tVckcCz-c How many eggs are there in your fridge, eh?