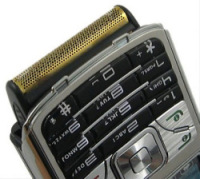 One thing the Moto Razr phone didn't do – despite its name – was shave you. Well, this massive gap in the market is now to be filled…
Step forward the Rong Zun 758 Razor Phone, a dual SIM card, GSM device, which also features a a built-in shaver. Well I never.
Who would buy such a phone? David Beckham, if his apparent endorsement of the Chinese product is anything to go by.
To see it in action, watch the video below:
Previous I can't believe posts:
* I can't believe someone makes… An LED messaging mouse
* I can't believe someone makes… Swarovski Crystal LCD TVs
* I can't believe someone makes… Glowing writstballs
* I can't believe someone makes… Klingon keyboards