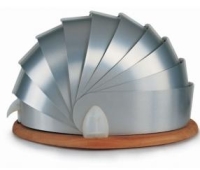 The interface where decadence meets redundancy. This is the subject of our new 'I can't believe someone makes…' series. Think good execution, but bad idea.
We turn a chilled eye on those product-filled luxury supplements. You know the ones, offering over-refined gadgets for those whose every material need is not yet quite met.
Think portable microwaves, mobile phone Lenspens and Drivemocions…
We kick off the series with an elegantly sculptured and not inexpensive Armadillo Breadbin…
"This brushed Aluminum bread bin is extraordinary," said The Times. "It looks like a work of art and will add a splash of glamour to any kitchen work surface," said the Daily Telegraph.
It will set you back around £65, BTW. See wheredidyoubuythat.com if, by any chance, you are tempted.
Seen any particularly good contenders for this series? Love the brushed metal bread bin? Leave a comment below.