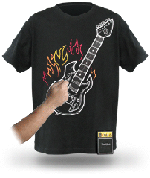 With a guitar T-shirt, you never know when inspiration will take you. Imagine strumming a little Paul Simon while sitting on a warm Californian beach, maybe, or just practising a few riffs standing in a cold bus-shelter waiting for the number 53 to Ponds End…
The Electronic Rock Guitar Shirt will set you back $29.99, and you strum away by waving a magnetic pick over the strings…
There's even a mini guitar amp speaker that clips to your belt and, inevitably, the volume control goes past ten and all the way up to 11…
Product Features
Adjustable tone knob
Electronic components are easily removed from the shirt for washing
Includes two magnetic picks
Picks stick to speaker grill for easy storage
Requires 4 x AAA Batteries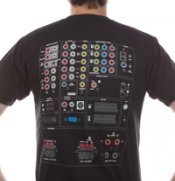 A video of the guitar in action follows, but before we leave T-shirt technology, a quick mention for the AV-Connector T-shirt (right).
It would be a handy reference guide but – in a nice touch – all the details are only awkwardly accessible around the back… It'll cost you $18 from Threadless.
Hold on…. is that someone on a drums-T-shirt in the background?!