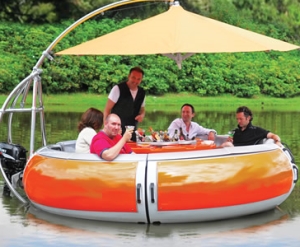 Thanks to the excellent The Week for highlighting this one, the Barbecue Dining Boat from Hammacher.
The magazine writes:
"If you happen to own a lake – or at least live near one – you should get yourself a Barbeque Dining Boat. The battery powered vessel has room for ten adults, a 24in removable grill, and a retractable umbrella."
Water, sun, alcohol, burning coals, ten people in a confined space… What could possibly go wrong? All the while travelling at 2.5mph…
Not for the amateur BBQ-er, though – this little bobbing barbeque base will set you back $50,000. That could get you a lot of steak, monk fish and Halloumi cheese!
Hammacher.com writes:
This is the boat with a built-in barbecue grill, umbrella, and trolling motor that provides waterborne cookouts for up to 10 adults. The boat's 24″-diam. steel charcoal grill is surrounded by an ABS table with 10 place settings that each have a recessed plate holder, three beverage holders, and silverware tray. Six compartments beneath the ABS seats store food and supplies for all-day cookouts. The 11′-diam. nylon umbrella can be retracted when using the grill.

Its 30-watt electric trolling motor enables operators to maneuver up to 2 1/2 mph through calm water and alongside docks for loading/unloading. The motor's four rechargeable batteries provide up to eight hours of continuous use from a 10-hour charge. Polyethylene hull. 11′ 9″ Diam. x 9′ 2″ H. (1,102 lbs.)