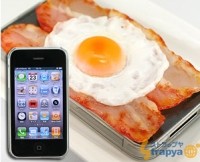 Fancy buying an egg and bacon iPhone case? That's not a sentence I expected to type at work this morning.
I really can't believe someone makes Yaki Soba iPhone cases, or fried pork cutlet cases, or rice and chilli past cases. Or even the aforementioned English Breakfast cases…
Thanks to Technabob for this one, and if you want to get your mitts on the 3G or iPhone 4 cases they will set you back around $34.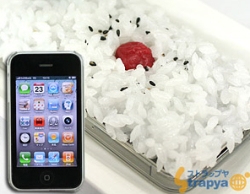 Japan's iMeshi supplies the rather delightfully impractical cases. They are realistic. You must admit, they would be a talking point. In fact, I might buy one. Where's my credit card? Actually, where's my iPhone?…
Previous I can't believe posts:
* I can't believe someone makes… Tuna can alarm clocks
* I can't believe someone makes… Kitchen scales with iPod dock
* I Can't Believe Someone Makes… Steering Wheel Laptop Holders
* I Can't Believe Someone Makes… Voice Recognition Grocery List Organisers
* I can't believe someone makes… Yet More USB nonsense
* I can't believe someone makes… Coca Cola powered cell phones