I can't believe someone makes… Canon SLR lens shots glasses

Where to file this one? Canny product recycling or cheeky leg pulling? You decide.
Actually, the answer seems to be the latter. These are apparently 'glasses' made to look an SLR lens (rather than a real lens serving the purpose of a glass).
If you pay the Photojojo store $18 online dollars you will get three tiny ceramic lenses per set, and each holds the same amount as a standard bar shot (1 1/2 oz)…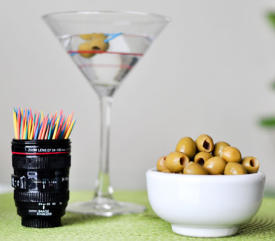 Canon-philes out there will, of course, recognise them as being the EF 24-105mm lens…
They are made by DERELIQ – is that a Zoolander reference I hear? – a "team of UC Berkeley students".
[Via
Technabob
]
Previous I can't believe posts:
Tags:
glasses
,
philes
,
Recycling
,
uc berkeley students
,
zoolander
Related posts
Sister publication Design News reports in its Lead Free Zone Blog that The Irish retailer,…more »