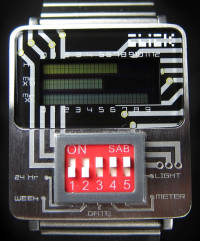 Not sure what it is about watches and clock faces, but I'm a sucker for this kind of thing. Let's just say Tag Heuer and Omega probably aren't quaking in their boots about this strangely alluring techy rival.
Here are the Click Watches, which would set you back around $170…
What do the little old dual in-line package switches actually activate? Well, you can select 12 or 24 hour digital time displays, operate the backlight and even set a "bar graph metered time display".
As a little point of detail, they also ship in circuit board packaging.
According to the Watchismo website:
The new Click Watches are reaching back into the glory days of electronics for their inaugural Dip Switch and Turn Switch timepiece collections.

If you look at the circuit boards of an 80's arcade game, you'd find these Dip Switches.  This type of switch is designed to be used on a printed circuit board along with other electronic components and is commonly used to customize the behaviour of an electronic device for specific situations.
Pictured below is the DIP-Switch Black/Green Ribbon, which is priced at $150.
[Via Technabob]
Previous I can't believe posts: