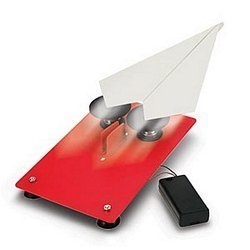 I can't, I really can't, believe that someone makes an electric paper plane launcher. It saves the effort of using the old arm, I appreciate that. But really…
Apparently the device will launch a well-made paper airplane at speeds up to 50km/hour, and you can buy them on Amazon for £9.95.
Note that it carries Science Museum branding and royalties from the sale of the product help fund the venerable London museum.
Contents: base plate, battery box, rubber ring and disc, terminal box, screw and nut, motor, pulley, red connecting sleeve, wire, sucker, sticky pad, and detailed instructions with fun facts.
Previous I can't believe posts:
* I can't believe someone makes… A wooden MacBook
* I can't believe someone makes… Rubik's Cube Calendars
* I can't believe someone makes… A mobile phone shaver
* I can't believe someone makes… An LED messaging mouse
* I can't believe someone makes… Swarovski Crystal LCD TVs
* I can't believe someone makes… Glowing writstballs
* I can't believe someone makes… Klingon keyboards