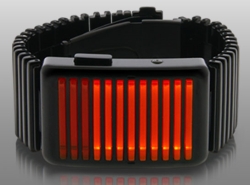 Wait, there's even more. This is a richer seam than I thought…
Check out these Kisai Denshoku watches made from aluminium and stainless steel, which tell the time only by means of stacked orange LED bars. To get the full time you need to press a button an the hours and minutes and seconds are displayed in three different phases (there are 12 LEDs, so you can kinda see where they are heading).
According Technabob you can buy these indecipherable beauties from TokyoFlash for approximately $236. If the past record of this series is anything to go, they will – despite my incomprehension – be sold out.
You can watch a video of the watch: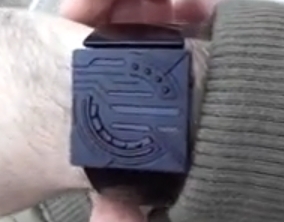 From Kisai Denshoku to Kisai Sensai, right, another LED watch from TokyoFlash, aimed at those bored of the traditional dial face and who favour would-futuristic alternatives. However the principle of flashing indicators is similar.
Flashing red lights indicate an hour, five-minute units are flashed by one of eleven green lights, and orange lights flash for individual minutes. Got that? What would 5-29pm be – check out this video?
Finally – and a bit more cool – according to Geekologie.com the LED watch pictured below was designed by Hironao Tsuboi. While at first it may appear to just a metal wrist band, one push of a button will reveal the difference.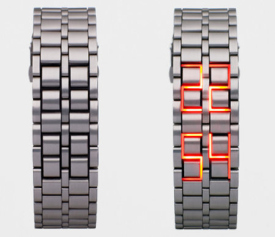 Previous I can't believe posts:
* I can't believe someone makes… Faceless watches [Part 1]
* I can't believe someone makes…. USB construction sites
* I can't believe someone makes… LED disco shower lights
* I can't believe someone makes… Snail Art Cars
* I can't believe someone makes… Electric paper plane launchers
* I can't believe someone makes… A wooden MacBook
* I can't believe someone makes… Rubik's Cube Calendars
* I can't believe someone makes… A mobile phone shaver
* I can't believe someone makes… An LED messaging mouse
* I can't believe someone makes… Swarovski Crystal LCD TVs
* I can't believe someone makes… Glowing writstballs
* I can't believe someone makes… Klingon keyboards
* I can't believe someone makes… Armadillo Breadbins