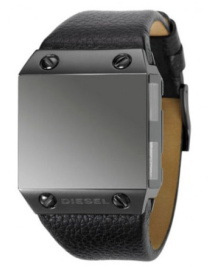 Now, I think I know what you are thinking. Push a button and an LCD time, maybe, will be displayed. Just like some digital watches of yore?
Well, no. It's more perverse than that. What you see is indeed a completely blank face plate. But see the pic below.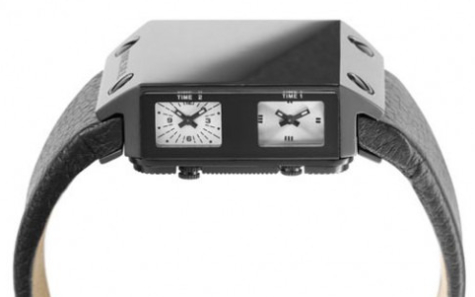 Thanks to Coated.com for flagging this one:
This cool watch known as the Diesel DZ9044 appears to have no actual watch face. At first glance, it appears to only have a polished black, stainless steel faceplate.
It seems there are four such mini-dials, configurable for any time zone you desire. Doh!
Available with a black or brown leather wrist strap, it will set you back $365. You can see more Diesel watches.
Previous I can't believe posts:
* I can't believe someone makes…. USB construction sites
* I can't believe someone makes… LED disco shower lights
* I can't believe someone makes… Snail Art Cars
* I can't believe someone makes… Electric paper plane launchers
* I can't believe someone makes… A wooden MacBook
* I can't believe someone makes… Rubik's Cube Calendars
* I can't believe someone makes… A mobile phone shaver
* I can't believe someone makes… An LED messaging mouse
* I can't believe someone makes… Swarovski Crystal LCD TVs
* I can't believe someone makes… Glowing writstballs
* I can't believe someone makes… Klingon keyboards