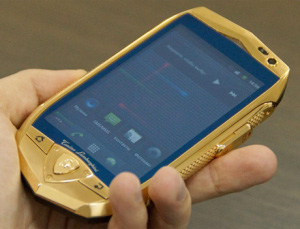 Fancy giving this gold-plated Lamborghini Android handset a drive? Even if it costs 75,000 roubles?
The Register highlights – via Hi-tech.mail.ru – this new way to show off ostentatious consumption. The gold versinon, will of course, ensure faster smoother connections…
Caleb Cox writes:
Lamborghini has upped the gears with its own range of mobile products, including a tablet and a gold-plated Android handset, both set to drive into the hands of oligarchs this summer.

The Lamborghini TL700 boasts a metal and crocodile skin body, protected with a display built from sapphire glass, Russian site Hi-Tech Mail reports. While the device costs 90,000 roubles (£1770), the display measures a mere 3.7in with a resolution of 800 x 480.