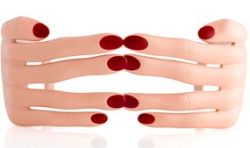 This one made me do a double take. Jeremy Scott has designed these unique sunglasses so that you can shield your eyes from the sun's glare by the courtesy of acetate women's hands… complete with red polished nails.
Note – the glasses don't actually have a lens in them. So no looking directly at the sun (to be fair, you shouldn't do that with normal sun glasses anyway). But you do get strategic shading from the fingers, I presume.
These will set you back £155 at Coggles.com. The website describes them thus:
Jeremy Scott x Linda Farrow Projects – Hands, womens flesh pink sunglasses with an acetate, wrap around hands shaped frame and no lenses. The sunglasses also feature a Jeremy Scott embossed inner arm logo and come with a black 'LF' embossed leather pouch.
Alternatively you could get them from the website 6000ad, where there are more pics!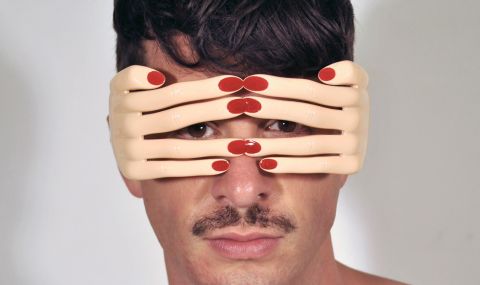 [Via LikeCool]
Previous I can't believe posts:
* I can't believe someone makes… motorised luggage
* I can't believe someone makes… a "shut-up" device
* I can't believe someone makes… the Love Box analogue video mixer for iPhone
* I can't believe someone makes… A defibrillator toaster
* I can't believe someone makes… Night Vision Golf headsets
* I can't believe someone makes… Room shrinking iPod docks [Part 2]
* I can't believe someone makes… Three metre high iPod docks
* I can't believe someone makes… Sling shot cameras
* I can't believe someone makes… Neolithic laser pointers
* I can't believe someone makes… DIP switch watches
* I can't believe someone makes… Luggage scooters
* I can't believe someone makes… Canon SLR lens shots glasses
* I can't believe someone makes… Steak Station Thermometers
* I can't believe someone makes… USB face masks
* I can't believe someone makes… Ball of wool chargers
* I can't believe someone makes… Sliced grandfather clocks
* I can't believe someone makes… Drill-powered pencil sharpeners
* I can't believe someone makes… Grow bag beauty covers
* I can't believe someone makes… Augmented reality business cards
* I can't believe someone makes… MP3 playing plugs
* I can't believe someone makes… LED benches
* I can't believe someone makes… Power cable lamps
* I can't believe someone makes… Unreadable watches [Part 5]
* I can't believe someone makes… USB skullhubs
* I can't believe someone makes… Starship Enterprise pizza cutters
* I can't believe someone makes… Gunship watches
* I can't believe someone makes… Extra dimension light switches
* I can't believe someone makes… Bacon and egg iPhone cases
* I can't believe someone makes… Tuna can alarm clocks
* I can't believe someone makes… Kitchen scales with iPod dock
* I Can't Believe Someone Makes… Steering Wheel Laptop Holders
* I Can't Believe Someone Makes… Voice Recognition Grocery List Organisers
* I can't believe someone makes… Yet More USB nonsense
* I can't believe someone makes… Coca Cola powered cell phones