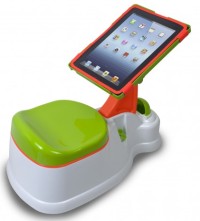 I have little idea what "potty training" actually involves in detail, but I never thought an iPad would be part of the equation… Enter the iPotty, courtesy of CTA Digital! As you can guess, it basically involves a standard potty with built-in iPad stand. The very basic idea is to distract and-or entertain the little human (with a very expensive bit of consumer kit) thus helping them get used to sitting… Simon Crisp, of gizmag.com, writes:
"The stand can be rotated between vertical and horizontal views and adjusted to three positions. The iPotty is said to be suitable for children from six months to three years. In case you're worried about the safety of your precious one (the iPad, obviously), there's a removable screen guard cover to protect it from almost anything your little one can 'throw' at it."
The iPotty, apparently, is "compatible" with multiple generations of Apple's iPad, and will work with other tablets "in the near future". Expect it to go on sale in March (hopefully not the beginning of April) and it will cost $40, according to reports. Check out a video of it, from CES 2013, on the BBC. Of course it is a gift to copywriters, and the sign-offs for a number of reports include:
"When the Apple marketing bods said using the iPad was like child's play, we don't think they had this in mind," said Pocket-Lint. "Is this the worst iPad accessory ever?" asks OsxDaily.com. "Now if only they could come up with an App to persuade Dad to put down the toilet seat," writes SmallStepsOnline.