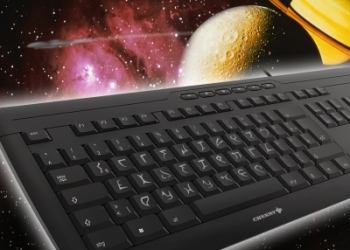 And it is indeed Klingon on the keys. Or at least something that looks very strange, and is believable as Klingon. Parlo l'Italiano, ma non Klingon. Maybe one of our readers will reveal themselves, without a trace of embarrassment, to be a pan-galactic polyglot.
Of course, it is a piece of fun. It started, last year, as a 'spoof' proof of concept to demonstrate Cherry Electrics Products' capabilities in producing keyboards with non-standard language layouts (including Hungarian, Kazakhstan, Maltese and Faroese).
However, due to the number of serious enquires it received from Star Trek fans, the company has now produced a fully functional keyboard with Klingon characters. It works with PCs running Windows, OS-X (Mac) or Linux, and is available for £43.99.
Romulan and Vulcan versions will follow soon, they promise (tongue firmly in cheek, unless sales prove otherwise).
So actually, there is a reason why someone produced Klingon keyboards! Following the admiring comments for the bread bin, I think we need to rename this series 'Perfectly valid products that on first impression may appear dubious…' Hmmm.
The next in the series will be "electronic landfill" (© reader comment from AndyRem), I promise.