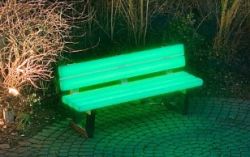 I can't believe someone makes LED benches… but they do. Opulent Items, to be precise, the "Home Of Unusual Luxury".
How much will these tasteful, multi-coloured, remote-controlled benches set you back? $6,500. Yes, six thousand five hundred dollars.
But in the good tradition of I-Can't-Believe-Someone-Makes…, the item is out of stock at the moment. Demand exceeds supply. They should have charged more!
What do you get for your money? The website writes:
This very unique contemporary furniture is remote controlled and glows in several LED colours. The remote control (included) allows you to rotate through the gorgeous colours at a preprogrammed speed (you choose speed via remote control) or you can elect to have a particular colour illuminate steadily. Hundreds of unique colour variations can be created as the remote control allows you to mix colours. A 3-meter power cord must be plugged into an electrical outlet (95 watt, non-heat lighting). This unique contemporary furniture can be used indoors and outdoors as it is totally weather-resistant.
 
Multiple benches can be synchronized in order to have all benches display the same colours at the same time. These contemporary benches use DMX-based remote control systems, which also allows them to synchronize with your home sound systems.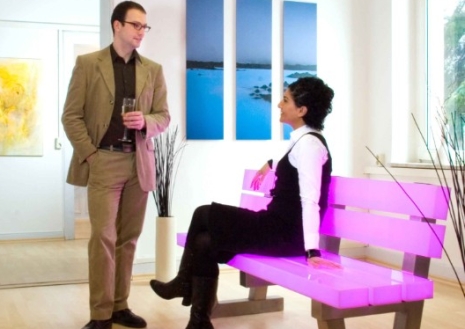 While you are at it, check out their Contemporary Light Furniture – "self illuminating luxury" with built-in fluorescent fixtures…
Thanks to Technabob for this one.
Previous I can't believe posts:
* I can't believe someone makes… Power cable lamps
* I can't believe someone makes… Unreadable watches [Part 5]
* I can't believe someone makes… USB skullhubs
* I can't believe someone makes… Starship Enterprise pizza cutters
* I can't believe someone makes… Gunship watches
* I can't believe someone makes… Extra dimension light switches
* I can't believe someone makes… Bacon and egg iPhone cases
* I can't believe someone makes… Tuna can alarm clocks
* I can't believe someone makes… Kitchen scales with iPod dock
* I Can't Believe Someone Makes… Steering Wheel Laptop Holders
* I Can't Believe Someone Makes… Voice Recognition Grocery List Organisers
* I can't believe someone makes… Yet More USB nonsense
* I can't believe someone makes… Coca Cola powered cell phones