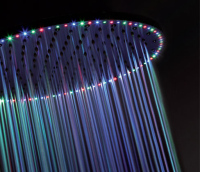 The latest in our I can't believe someone makes… series is an LED disco shower lights system – a "revolutionary LED light showering experience," according to its makers.
Thanks to Technabob for this one.
Made by a company called Crosswater, the RIO shower head comes complete with 96 computer-controlled LEDs. The red, green and blue colours are mixed and matched to light up the small jets of water coming out of the 40cm diameter shower head.
"The low consumption LED lamps create a column of water an dlight with a diameter of 400mm working perfectly with 3 bar pressure," writes the company.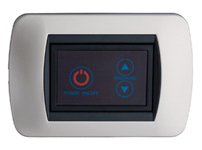 And if you just love adding to your collection of gadgets, it does come with its very own programmable key pad (pictured, right), enabling 12 individual lighting settings. I wonder if it is covered by a universal remote… TV, DVD, Hi-Fi, shower head…
But before you think, "I'll have one of those", note the price. The RIO shower lights will set you back a not-insignificant £2,799. Technabob kindly flags a more modest alternative LED shower light.
Who would have thought there were so many, when I couldn't' believe there was one…
Previous I can't believe posts:
* I can't believe someone makes… Snail Art Cars
* I can't believe someone makes… Electric paper plane launchers
* I can't believe someone makes… A wooden MacBook
* I can't believe someone makes… Rubik's Cube Calendars
* I can't believe someone makes… A mobile phone shaver
* I can't believe someone makes… An LED messaging mouse
* I can't believe someone makes… Swarovski Crystal LCD TVs
* I can't believe someone makes… Glowing writstballs
* I can't believe someone makes… Klingon keyboards