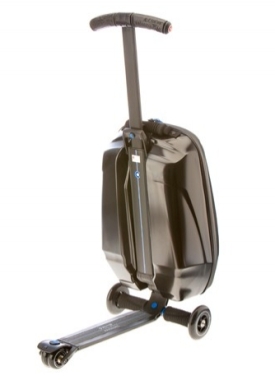 I can't believe someone makes luggage scooters. But, you know what? I'm glad they do!
Kudos to Pocket Lint for their headline choice on this one – Fly through the airport with Samsonite scooter luggage
It's an apt post for the summer when too many people have probably been toiling too long, with luggage, through unpleasant airports.
Personally, I'm still scarred by a late dash to a distant, distant gate at BA-dominated Heathrow for a Virgin Atlantic flight. Oh, how I would have laughed if I could have scooted the many, many furlongs…
Anyway, this baby will set you back around £250. Check out the full details on www.micro-scooters.co.uk
For your money you get the Samsonite brand as well as luggage that has wheels, for you as well…
The website writes:
Luggage that moves you! A modular luggage system was the vision. The result is a conventional hard shell case with cabin-size-dimensions which can also be used as a means of transport, thanks to the running board, handlebars and wheels. The modular structure makes it ideal for use as a carrier bag, trolley and last but not least, as a kickboard with case (the case cannot be dismantled).
Finally, let's get down to the technical info. Weighing 5kg and carrying a max load of 107kg, it has an official maximum speed of 10km/h. Go any faster than that and you are on your own, flying through the airport…
Previous I can't believe posts: