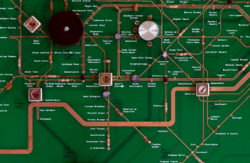 It's always great to hear from readers, and Stuart has sent in a great one! "Saw this and thought of you," he writes in an email to Webmaster, "a working radio circuit board laid out as a London Underground tube map."
It's one from the "irreverent & informative" London Underground Tube Blog, and what makes it even more impressive is that it's actually part of a working radio…
It is the work, apparently, of an "artist in residence" at the Design Museum, Yuri Suzuki, working in collaboration with Masahiko Shindo.
The tube website also writes:
Incidentally, the story that Harry Beck based his original map design on the electronic circuit board is a myth. There is indeed a Beck style circuit board design tube map in the archives, but it was apparently a joke that was presented to him long after the tube map had been adopted by London Transport.
Here it is, in more detailed glory: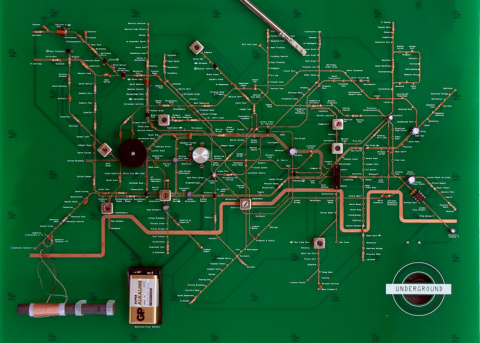 Designboom.com, who highlighted the work, writes:
Responding to 'thrift' as a theme, suzuki's work explores communication systems in consumer electronics. A printed circuit board (PCB) is used as a precedent for developing a electrical circuit influenced by harry beck's iconic london underground map diagrams. by strategically positioning certain speaker, resistor and battery components throughout the map, users can visually understand the complex networks associated with electricity and how power is generated within a radio.
Excellent!