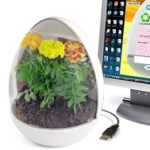 I don't know where to start. I'm spluttering as I type. Mosquitos, parrots, greenhouses, sperm… they're all here.
How about starting with a USB Greenhouse (I'm not making this up), described by CraziestGadgets.com as the greenest accessory ever. Your own little Universal Serial Bus-connnected bio-growth pod.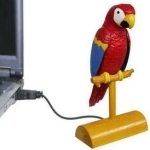 "The USB connection does more than just power up the adjustable growth light- it also monitors the growth and well being of your plant. Marigold seeds and artificial soil are included in this £29.99 kit," writes the website. There's also plant management software, apparently. Available via the Gadget Shop.
Or how about Pepe The USB Parrot, which repeats what you say at random intervals? Thus, in comic manner, embarrassingly repeating your curses at Outlook crashing again, no doubt. It also flaps its wings, and is available from Amazon for £16.30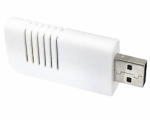 Or how about a USB Mosquito Repellent? Troubled by mosquitos while computing are you? I often am.
"Powered through a free USB port, this gadget emits an ultrasonic frequency that deters mosquitoes," reports Coated.com, "…and has an effective range of 1.5 square meters."
Yours for £3.86 from Uxsight apparently.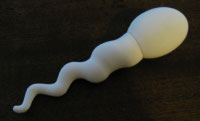 Finally, I guess this one is priceless as it can't be bought in shops. It's rather tasteless, too – a sperm USB drive. Gizmodo reports that these sperm-shaped USB drive were handed out at the American Society For Reproductive Medicine's (ASRM) 2008 conference…