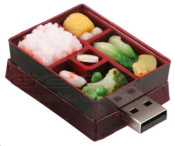 What is the connection between Universal Serial Bus-based devices and… food and drink?
I don't know, but it is easy to bite off more than you can chew with this one, as there's a feast of choice … [Enough. We get the theme – Ed.]
How about beginning with a bento box, as Sushi lovers so often do?… Though not usually in small, plastic form, for storing files (available from USBGeek for 17 online dollars).
Or a USB Soda Can Humidifier? If its humidity you want, rather than storage, this will do the trick, using small absorbent sticks to provide the moisture, reports craziestgadgets.com (£15 plus shipping).
And there's always a Fake Edible Panda Japanese Dorayaki Pancake USB Flash Drive, for those that like their storage in the form of sweet pancakes. (There's a definite Japanese sub-theme emerging here.)

Not forgetting baked beans. Never far away when it comes to USB. Specifically, the Heinz USB powered microwave – the Beanzawave. Check out the video below of the device in action (reportedly to cost around $160) ..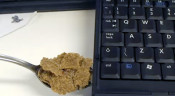 Or – finally, but getting increasingly off-the-wall – how about, a cereal and spoon USB flash drive, to get you in a breakfast mood, err, when backing up files (note that this one is homemade).
Amazing. Pointless, but amazing.