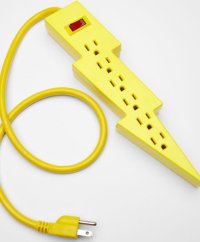 Talk about tempting fate – how about having a lightning bolt plug strip? It would set you back twenty online dollars from TheFancy.com, which writes:
"Harness the power of lighting to charge your electronics and power your gadgets. Take a super boring necessity (power strips… always beige and kind of dusty. The worst!) and make it a unique design piece you'll be proud to show off. Also great for last-minute Zeus or Harry Potter costumes. Bright yellow plastic."
Plug strip as fancy costume? Anyway, the outlets are grounded, apparently, with support for six plugs. US format, too, note…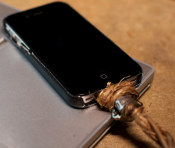 And how about plugging in your iPhone with this cable, ropey style – it's the Manila Rope iOS Cable.
Again this one will set you back $20, and Technabob writes:
I've seen a handful of third party iOS charge and sync cables, but they were all practical and designed to add functionality. On the other hand, this cable is just determined to stand out. Although it will at times stand out as rubbish or a piece of rope.
Check out the Manila Rope iOS Cable >>