I really can't believe someone makes neolithic-style red laser pointers but I'm glad they do. The fossil-style arrowhead device would nicely complete the caveman-tech concept currently going on in my office.
It can only complement, for example, my cave painting screen saver and my faux mammoth-hide mouse mat. Not to mention the Pleistocene printer behind me…
The Arrowhead would cost you £7.95 on Amazon US, which writes in the product description:
This is a great gift for anyone, including yourself! This small, (3 inch long) arrowhead shaped laser pointer is a class IIIA laser pointer with a maximum output of 5mW; wavelength 650 mn. Anyone would like one! Comes ready to use. Batteries included.
However, in the good old tradition of ICBSM, the product seems to be so popular it is now out of stock.
Thanks to ILikeCool for flagging this one.
Want to see the ArrowHead in action? Check out the pic below.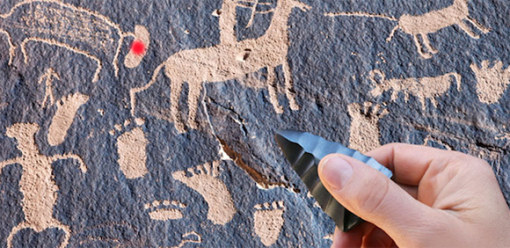 Previous I can't believe posts:
* I can't believe someone makes… DIP switch watches
* I can't believe someone makes… Luggage scooters
* I can't believe someone makes… Canon SLR lens shots glasses
* I can't believe someone makes… Steak Station Thermometers
* I can't believe someone makes… USB face masks
* I can't believe someone makes… Ball of wool chargers