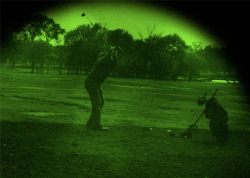 My first reaction to reading about Night Vision Golf headsets was that they were simply wacky. What was the angle, beyond simply playing golf at night? I've heard of 'golf widows', so I know the sport has an extreme pull, but still…
Then I suspected it may be something creepy – is this just an 'acceptable way' of selling stalker-friendly night vision glasses to lurkers… Then it made sense: they are for people who want to play at night to avoid paying course fees.
Crafty! Cheap, but crafty.
Well, these things don't come cheap, even if you are – the "2 Ball Set" includes two sets of night vision golf goggles and 20 specially coated balls for $1,500, and the "4 Ball Set" includes 4 sets of night vision golf goggles and 40 specially coated balls. (I'd forgotten about the balls – imagine just playing with the headsets!)
Anyway, here's what TheCheeky.com has to say, in suitably cheeky fashion:
Anywhere, everywhere, as long as it is dark.

Augusta, St.Andrews, Celtic Manor…play any golf course you want for free without any of the stuffy 'collars and slacks' crap. Wherever you want, just walk on, stay awake and play.

Using the latest night vision goggles and special coated balls, you can see everything.

This product has been endorsed by the likes of Tiger Woods but he had to pull out due to a conflict of 'night-time mischief' interests.
Thanks to LikeCool for flagging this one.
Previous I can't believe posts:
* I can't believe someone makes… Room shrinking iPod docks [Part 2]
* I can't believe someone makes… Three metre high iPod docks
* I can't believe someone makes… Sling shot cameras
* I can't believe someone makes… Neolithic laser pointers
* I can't believe someone makes… DIP switch watches
* I can't believe someone makes… Luggage scooters
* I can't believe someone makes… Canon SLR lens shots glasses
* I can't believe someone makes… Steak Station Thermometers
* I can't believe someone makes… USB face masks
* I can't believe someone makes… Ball of wool chargers