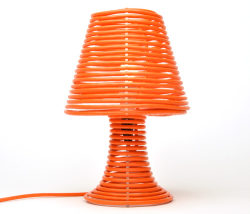 It's so wrong it's got to be right. Maybe. It's a lamp made out of its own power cord, the Handmade Coil Lamp!
It's the creation of one Craighton Berman – an industrial designer in Chicago – and is yours for $159.
He writes:
Coil reduces the domestic table lamp to the absolute minimum of defining elements. A single electrical cord coils around what appears to be an empty volume, defining the iconic form of a table lamp and ultimately powering a single light bulb.

The entire lamp is created exclusively from a 100 foot extension cord that has been wrapped around a laser-cut clear acrylic form. This simple transformation elevates the status of the humble extension cord to the realm of domestic design.
What does it look like when turned on? See below. Let's just hope there is no fishy smell of overheating plastic…
Note, however, that while the kit includes the laser-cut acrylic frames, bulb adaptor, and illustrated assembly instructions, buyers will need to purchase their own 100 foot extension cord AND CFL light bulb. (Thanks to technabob for flagging this one.)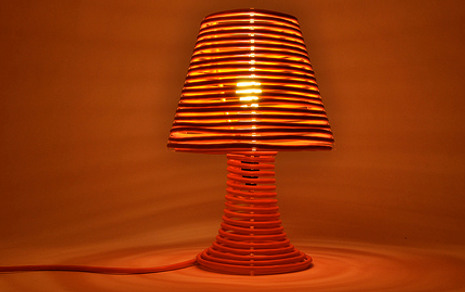 Previous I can't believe posts:
* I can't believe someone makes… Unreadable watches [Part 5]
* I can't believe someone makes… USB skullhubs
* I can't believe someone makes… Starship Enterprise pizza cutters
* I can't believe someone makes… Gunship watches
* I can't believe someone makes… Extra dimension light switches
* I can't believe someone makes… Bacon and egg iPhone cases
* I can't believe someone makes… Tuna can alarm clocks
* I can't believe someone makes… Kitchen scales with iPod dock
* I Can't Believe Someone Makes… Steering Wheel Laptop Holders
* I Can't Believe Someone Makes… Voice Recognition Grocery List Organisers
* I can't believe someone makes… Yet More USB nonsense
* I can't believe someone makes… Coca Cola powered cell phones