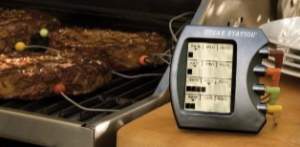 Maybe I am just showing my culinary ignorance here, but something about probing food seems wrong, and I am afraid the Charcoal Companion CC4073 Steak Station Thermometer has just found its way into the I can't believe someone makes series…
Or maybe it is just the over-analysis, by electronics, of what should be a skilled, human judgement…
Anyway, thanks to Craziest Gadgets for flagging this one, and explaining how we can insert "the color-coded probes into your steaks and the vital-signs monitor reads and displays temperatures for each one". It writes:
Grilling steaks is serious business. Business you need to be on top of. In the old days we would look and touch our steaks to see if they are done. We also used to get up off the couch to change the channel. Those days are over now thanks to technology that does these things for you.
A serious meat lover's ideal device, or a decadent emblem of over-consumption? What do you think?
It would set you back $20 on Amazon.com.