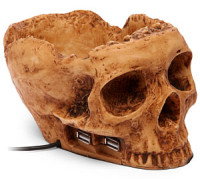 Apologies in advance for the poor taste of these products. USB connectors have just gone too far – I can't believe someone makes USB skullhubs… They're 'Scarily fast', says the promo.
With Halloween – of course – being the excuse for this latest development in universal serial bus connectivity, the skullhub features four USB 2.0 ports, and a USB cable that is 56 inches long.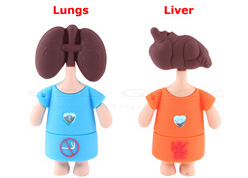 It'll cost $25, from ThinkGeek. Measuring six inches deep by four inches wide, that's quite a lot of skull for your dollar. Oh, yes, it also makes a handy paper click holder…
As if that wasn't enough, how about some "Lung and Liver Head Figurine USB Drives" (pictured left)? What's the capacity of those lungs, or livers? 4GB. Courtesy of USBGeek, they'll set you back $20.
As is conventional, blue is for livers, orange is for lungs. Hang on, it's the other way around.
Previous I can't believe posts:
* I can't believe someone makes… Starship Enterprise pizza cutters
* I can't believe someone makes… Gunship watches
* I can't believe someone makes… Extra dimension light switches
* I can't believe someone makes… Bacon and egg iPhone cases
* I can't believe someone makes… Tuna can alarm clocks
* I can't believe someone makes… Kitchen scales with iPod dock
* I Can't Believe Someone Makes… Steering Wheel Laptop Holders
* I Can't Believe Someone Makes… Voice Recognition Grocery List Organisers
* I can't believe someone makes… Yet More USB nonsense
* I can't believe someone makes… Coca Cola powered cell phones