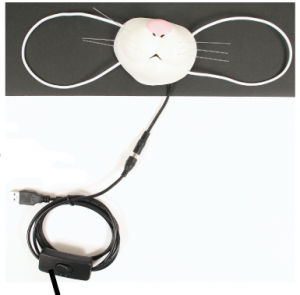 How do I hate thee? Let me count the ways…
Well, let's put the silly cat look to one side, and accept the idea of a wearing a mask (widespread in Asia), that still leaves the troubling concept of attaching your face to a computer. A USB face mask?
The reason is, apparently, so that a little fan can work to bring in fresh air to your covered mouth, to aid breathing.
Technabob writes:
This kitty face mask can be powered via USB or batteries and will help filter and circulate the air, all while making you look like an idiot. It will set you back ¥1,980 ($24 USD).
It comes courtesy of Thanko. Of course the mention of USB brings in a wide-haul of previous ICBSMs, and this is by no means the most wacky. Consider for example, the USB…