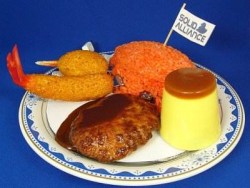 What's the collective noun for absurd USB dongles? How about, a plate?! And will a Humping Dog address your data storage needs?…
What am I talking about? Well, check out this platter of various storage devices… I can see battered prawns and rice. And is that chicken? And what's that? Could it be a Creme Caramel USB stick?
And there's more. (There's always much more, on this topic.)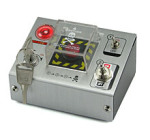 How about a USB Doomsday device. As well as making your co-workers think you could end the world with a push of the red button, it can also be a 4-port USB hub. Yay!
Rather more prosaically, what about a cork or light bulb storage device or a retro UFO? Or, just for show, a USB Lightsaber?
Or how about rice cooker-shaped USB speakers? (Are you still with me?)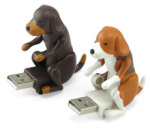 And the aforementioned dog? Well, finally, thanks to reader Richard for drawing our attention to Humping Dog data storage solutions, pictured right.
Would you prefer the Doberman or the Beagle? You can't make this stuff up…
Previous I can't believe posts:
* I can't believe someone makes… Coca Cola powered cell phones