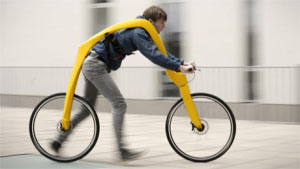 At first I thought this was absurd – a pedal-less, seat-less bike, where you ride underneath the frame? – but on closer, more open-minded examination it looks a striking idea…
It's the FLIZ bike – as in 'flies', presumably – which 'represents an expansion of urban mobility for different users' (I am Google translating from the original German). Check out more info here >>
Tom Hambrock and Juri Spetter write:
The prior aim of developing FLIZ was to bring a completely new driving experience to everyone. Based on the very first bike – the "Laufrad" – we created a velocipede concept of healthy, ecological mobility in overcrowded urban space. Its laminated, innovative frame with 5 point belt system provides a comfortable, ergonomic ride between running and biking. The frame integrates the rider and due to its construction it works both like a suspension and like a top carrier whereas the belt replaces the saddle and adjusts your position.
The reference to the first bike involves the work of Baron Karl von Drais, and his 'walking machine'.
Thanks to CBCNews for this one.