Keyboards seem to be a popular topic on Made By Monkeys….
For the latest Impossible Object we return to the source of the series' inspiration. It is another entry from the Catalogue of Impossible Objects by Jacques Carelman (a member of the College of 'Pataphysics).
It includes such items as electric hammers, conflicting cycles and flat chairs.
Actually, we have almost been here before. Talking about Wingdings keyboards, what about the previously mentioned Klingon keyboard? Have the Wingdings ever appeared in Star Trek as an alien race?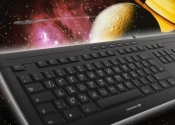 The Klingon keyboards are actually in production, so maybe not such an impossible object after all…