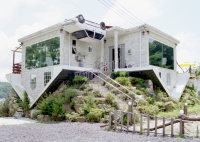 What is it with upside down houses? I've come across this theme a few times before, but credit to this blogger for drawing some examples together. And note these houses are apparently complete inside, they're not just empty shells.
Eugene, on MyModernMet writes:
Why would anyone want to build an upside-down house? I don't think a rational answer for that question exists. However, it's impossible not to stop and stare at these unorthodox structures. What makes these buildings even more interesting is that they're actually being used, as opposed to just being art installations.
For example, check out the Sakasa Restaurant in Japan for a view from the inside.
I think I like the one from Germany most, but I do like the upside down car parked next to the upside down Korean house!
If such things whet your appetite for more – although this is not so fully functional – you could always visit Wisconsin Dells and see an Upside Down White House…
Finally, a philosophical question: can these buildings be called upside down if they are the right way up?