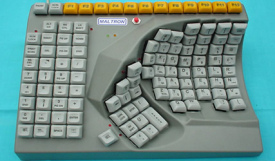 I think they've taken this ergonomic thing too far. This could only be comfortable for a being from another planet.. that wishes to type in Roman characters.
Thanks to Gizmodiva for this one. And the website raises a point that has struck me – given the amount of time and effort put into product research, how come "ergonomic" keyboards can be awkward to use (I gave up on my split-hand, curved Microsoft offering long ago).
Gizmodiva writes:
If you check out the natural keyboard line from Microsoft, it seems quite impressive at first glance. They make access to all the parts of the keyboard easy and the keys are nicely separated. This is in theory though, however when you try out the keyboard in actuality, it's a whole different story. The way the keyboard is separated is really inconvenient.