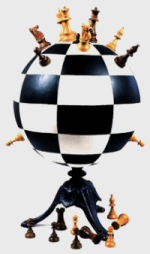 For the latest Impossible Object we return to the source of the series' inspiration. It is another entry from the Catalogue of Impossible Objects by Jacques Carelman (a member of the College of 'Pataphysics).
It includes such items as electric hammers, conflicting cycles and flat chairs.
Building on the idea of changing the chess landscape, check out this alternate version of the game, dubbed TERRAIN, which lets you configure the board using different sized cubes.
Not quite sure how this affects rules for moving and taking…
It is attributed to the Finnish Design house Tonfisk, which describes it thus: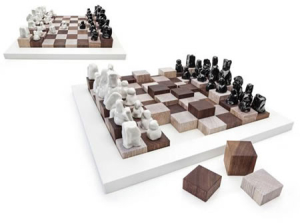 TERRAIN consists of 3-dimensional board made of 64 separate wooden blocks which can be altered and rearranged to create a variety of terrains in which to do battle. The game thus has an added dimension of difficulty. The wooden blocks are made of walnut and white oiled oak. The porcelain chess pieces are made by hand and each piece is unique.
It makes me think of a three-way chess board I almost bought at Piccadilly Market at St. James's church, for a chess loving friend. A three way battle would certainly introduce a new layer of strategy into the game.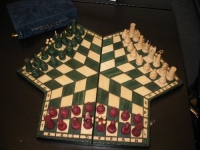 It also reminds me of a friend from school who claimed to have played "Super Chess" at his chess club, playing with 64 sets of pieces on an 8 x 8 square of boards….
Anyone else know of interesting chess "extensions"?