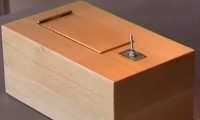 Intrigued, I headed to YouTube optimistically hoping to see such a machine in action... and bingo! (I believe the device below was part of a Claude Shannon Exhibition at the Heinz Nixdorf Museum in Germany.)
According to Wikipedia:
Outside of his academic pursuits, Shannon was interested in juggling, unicycling, and chess. He also invented many devices, including rocket-powered flying discs, a motorized pogo stick, and a flame-throwing trumpet for a science exhibition. One of his more humorous devices was a box kept on his desk called the "Ultimate Machine", based on an idea by Marvin Minsky. Otherwise featureless, the box possessed a single switch on its side. When the switch was flipped, the lid of the box opened and a mechanical hand reached out, flipped off the switch, then retracted back inside the box.
A fascinating man - I like the sound of a flame-throwing trumpet!
He apparently also built a device that could solve the Rubik's Cube puzzle, and is also credited with co-inventing one of the first wearable computers for the purpose of calculating odds when playing roulette. And he applied his knowledge to make money in stocks and shares...
See also: